Once again, we find that a vital service to our communities, the Children's Centres, is to be "redesigned" in a cost-cutting exercise by the Cambridgeshire County Council (CCC). The Council hopes to achieve a savings of £1 million, whilst claiming "it will continue to meet the needs of our most vulnerable families by ensuring our services are targeted at those in greatest need, whilst also providing good quality advice and information locally to all families to support families to help themselves and access universal support through good quality child care and health services"
So, CCC have come up with a redesigned service of sorts, which it claims will enable them to make better use of the buildings, by shaping them into adaptable and multi-functional spaces, designed to deliver to those in greatest need, and offering services across the whole family age range.
It is also looking to integrate further with partners such as Health, to ensure the services offered are good value for money, and are provided at the right time and place for families. Well that is all very well and laudable aims. But we also have the saying "if it ain't broke, don't fix it!". This is not about fixing though, is it? It is about saving money. So let's take a look at the proposal.
What is the consultation about?
The Centres have played a vital role in delivering early childhood services to families with young children, bringing together key services such as childcare, health visiting, midwifery, employment and adult learning into one place.
There are currently 40 designated Children's Centres across the County, with one in Highfields Caldecote, delivered by a combination of the County Council, schools and voluntary organisations. The contracts for externally delivered Children's Centres conclude in April 2018 and the County Council says it is looking at how to ensure that the money spent has the greatest positive impact on young children's development before re-tendering new contracts.
Some sort of analysis has obviously gone on to come to the stage we are now at, but the CCC must make sure that it has sufficient numbers of Centres to meet the local needs of parents.
CCC also has a statutory duty to consult with those affected about any proposals that may result in significant changes to, and/or the closure of, its Children's Centres, which are part of the proposed redesigned Children's Centre service.
And to put things in context, the County says that over recent years Government policy on supporting families and young children has changed. There is no longer a Government pot of money to pay for Children's Centres or any funding for new ones. The CCC conveniently omits to tell you that it has also refused over the last two or more years refused to raise council tax as allowed by Government in order to protect services!!
I attended one of the events arranged for Councillors, to find out for myself what the changes were about, and even then, could not help but think of the pain of the families that will be affected by the changes.
So they are asking parents to "endorse" the proposed changes. Make no mistake, this is a box ticking exercise, rather than a listening exercise. But please do not let that deter you from participating. We must have our say!
Proposed Child and Family Offer
The diagram below shows the 4 ways in which the services are proposed to be delivered: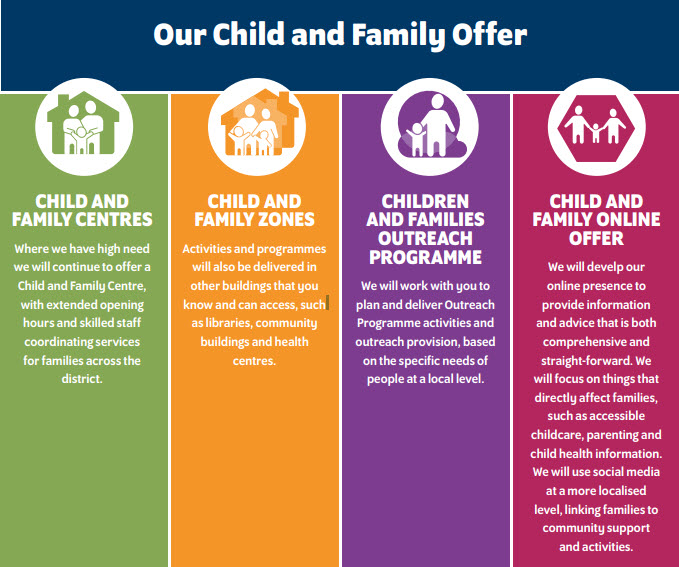 It claims that "any Cambridgeshire family in need will be able to access services from any Child and Family Centre, from any Zone, through any Outreach Programme activity, or via an improved online offer"
We will build on our current Children's Centre offer to offer services to families with children of all ages
We will focus services on those families who need them most
We will continue to strengthen our integration with the partner services you value most, such as Health
We will create a network of 10 Child and Family Centres over 15 sites across the 5 districts – City, South Cambs, East Cambridgeshire, Huntingdonshire and Fenland
We will create 12 Child and Family Zones
We will identify and allocate resource to deliver outreach provision in other areas not covered by the Child and Family Centres or Zones
We will create an easily accessible and well informed online information service outlining the local offer of services for families across the County
We will look to change the use or re-designate some of the remaining Children's Centre buildings, to provide additional early years provision
How service will look in South Cambridgeshire
For those that live in South Cambs, there will be changes for sure, and the context of the proposals is in the following: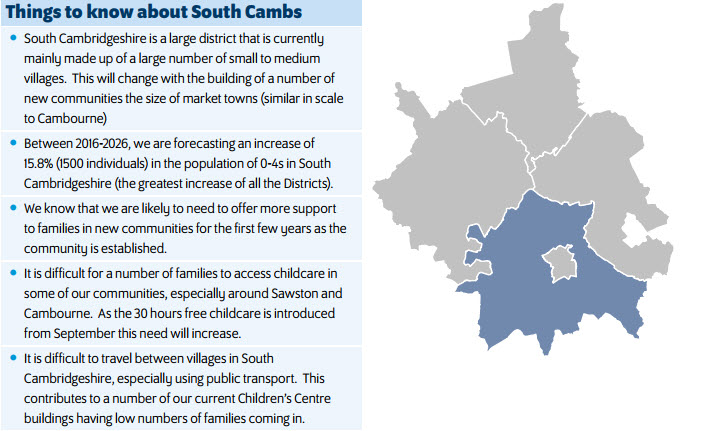 Note that the indirect reference to the new communities the size of market towns – these are Cambourne West, which South Cambridgeshire District Council has already given planning permission to build 2400 houses, and Bourn Airfield, which is still subject to examination by a planning inspector as part of the proposed local development plan, to build 3500 on the airfield site.
Proposed redesign for South Cambridgeshire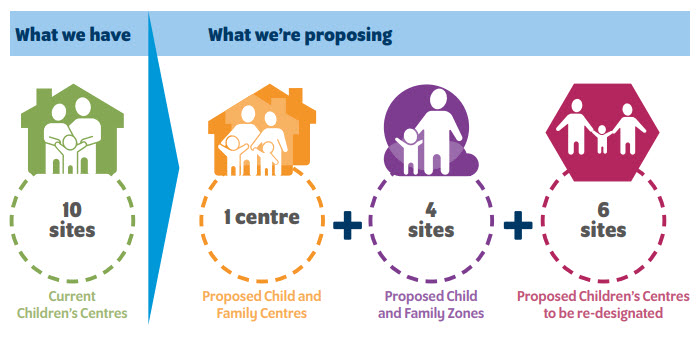 For this area, the current 10 sites morph into 11 sites, with Cambourne staying as the Child and family Centre, a new site will be built at Northstowe to become the fourth Child and Family Zone, while 6 sites, including Caldecote will be "redesignated".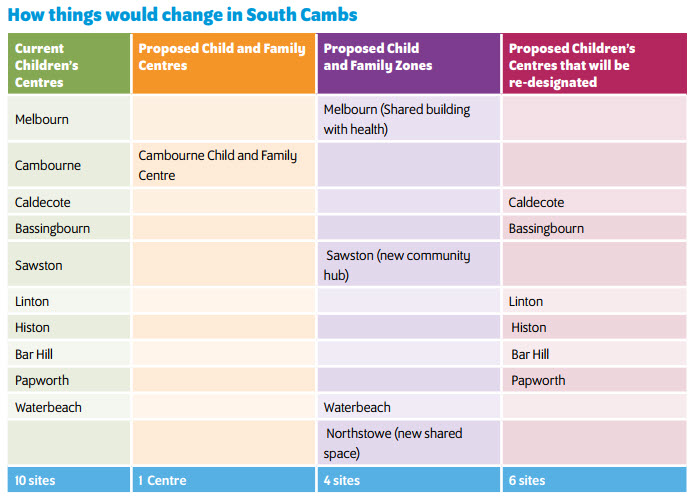 Some Children's Centres would no longer be needed as Children's Centres. The CCC  is looking to re-designate these spaces to meet "other needs" of families in the area including Childcare provision, community use and wherever possible ongoing Outreach Programme provision as required. Not sure what that means, but it seems to be a useful catch-all phrase that does not restrict what can be done with the building.
Thankfully, we are not looking at losing or the closure of a building, as are some other parts of the County. But we still need to know and understand what will be done with the Sure Start Centre in Caldecote. This is where parents input is crucial and why I urge those who currently use it, or may find themselves in need of it for Under 5 provision, school clubs etc. etc. should endeavour to make recommendations or respond to the consultation.
Have Your Say
There is a consultation form that you can fill in – visit the site or just click on this link www.cambridgeshire.gov.uk/childrenscentreconsultation. The Council would prefer online responses, to help save money!
You can also attend an event put up for the public on 15 August 2017, from 1pm to 3pm, at Waterbeach Children's Centre, Waterbeach Community Primary School Site, High Street, Waterbeach, Cambridge CB25 9JU.
If you have a lot more time to read, you can read the whole consultation document here.
The consultation ends 12noon on 22nd September 2017, so make sure you submit your responses before then and don't leave it till last minute. The responses will be analysed, published and presented to County Councillors for final decision in October 2017. (I told you, its a box ticking exercise, but don't give up!)
Have queries – email  ask.childrenscentres@cambridgeshire.gov.uk . If you don't get any joy, email me or let me know through the Contact Me page on this website.