Council Leader Attempts to Justify Destroying Quality of Life for South Cambs Village
It has been one of those weeks when so much happened in such a short space of time. Two things stood out for me, first on a political level (no, not Trump! but name begins with T) in the first half of the week, and second on a personal level in the other half of the week. Incidentally, both those issues have to do with Community and how we build or break them.
It all started on Monday 16th when I came across a tweet by the South Cambridgeshire District Council Leader, Cllr Peter Topping, discussing building new communities and not allowing urban sprawl into Greenbelt.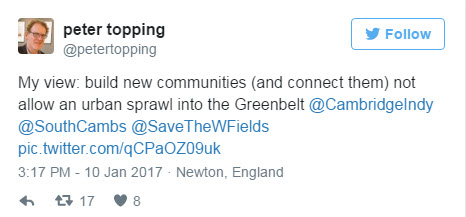 Which is a laudable stance to take. I know just the mention of the word "greenbelt" gets people's shutters down and emotions all charged up ready to defend. And I will say here and now without ambiguity that I do not share that emotional attachment to the greenbelt, though I respect the views of those that do. If that puts you off reading this, so be it. But my point here is not about the greenbelt but about our communities (but they are linked).
Cllr Topping's tweet had the extract of a Cambridge Independent Newspaper attached to it in which he said two things that I found interesting, and I quote
"You could double the size of Cambridge with new developments, just grow out of Cambridge into the green belt and build lots of dormitory estates, but we passionately believe that is not the right approach. Its better in the long term to build new communities".
And further on in the article he also is quoted as saying that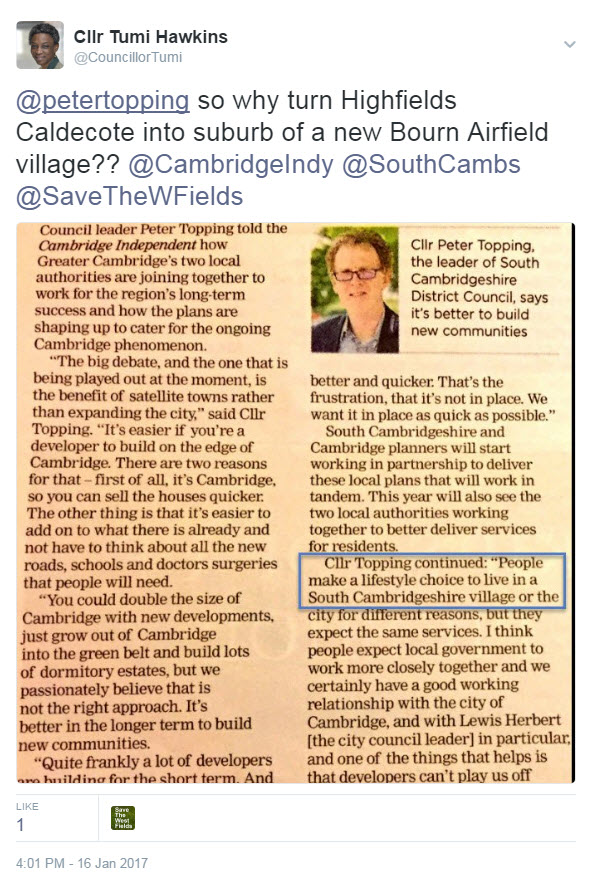 "People make a lifestyle choice to live in a South Cambridgeshire village or the city for different reasons, but they expect the same services".
I support the notion of not building dormitory estates but communities. I also agree that people choose to live in a village for various reasons, importantly that they wante
d the quieter lifestyle that villages offer, and the quality of life that it gives to their families. I know that because I made that choice.
However, what really struck me about that article is that Cllr Topping was saying one thing, but actually the Council he leads is doing the complete opposite building dormitory estates, not close to Cambridge, but in satellite locations. Not only that, they are building or at least planning to build some of these estates in locations that completely compromises existing communities, their identities and quality of life of the residents. And they are hell bent on doing so at any cost – or so it seems to me and to the people I represent. I have written about here in this article.
So as you see from my reply to his tweet, I took him up on the second point (highlighted in the article snippet), asking why the Council is turning Highfields Caldecote into a suburb of a new Bourn Airfield Village? Surely, that is a valid question, and one that you would think that the current senior advocate for the Draft Local Development Plan would be happy to answer?
Oh no! As it turns out, Cllr Topping did not reply to my specific question. Instead he replied that "Building sustainable new communities takes time & commitment to our residents and that is what @SouthCambs is all about". I wanted to know how that premise faired in CAmbourne and tweeted back "just as Cambourne attracted businesses leading to reallocation of biz land to housing?". He of course did not agree with me, saying that "Cambourne will attract businesses given its position between Cambridge & MK & Oxford, but needs critical mass". This led to some teasing from others about critical mess, about how Northstowe is still only just starting to be built, more than 10 years after it was allocated in the current local plan etc.
Again I agree that building new communities takes time. But why try destroy existing communities in the process?.
He still avoided the question, even though I reminded him of it again and again. Eventually I got an answer as you see below. Which I took to mean he didn't care and said as much. Which in turn seemed to touch a nerve ……
After that, I finally got what Cllr Topping considers to be an answer to the question of why South Cambs is hell bent on turning Highfields Caldecote community into a suburb of a new urban development. And it is this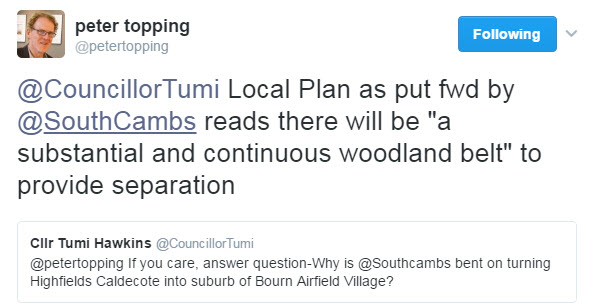 As you can see, it is not an answer and whilst I give him credit for not adding insult to injury with more platitudes, this answer shows that not only did they get it wrong in the first place, selecting Bourn Airfield as a potential new village, but that they will do anything to maintain that position.
This answer forces the obvious question – why would you need "a substantial and continuos woodland belt" in the first place. Why? Because both communities would be so close as to be indistinguishable when the new village gets built. You only have to look at the map to see this.
And what exactly is "substantial and continous"? How substantial? Continuous from where to where? Those words are the result of the changes that the Council allowed and voted for back in November 2016 – and again you can read about it in this article here.
In short, the Conservative led South Cambs council will do whatever they see fit to push their unsound plans through. So much for leadership or vision!