Greater Cambridge is a fast growing subregion, with Cambridge City at its centre, a city constrained by its medevial centre and the green belt that surrounds it. The growth is welcome by some, and unwanted by many due in part to the soaring cost of housing and the difficulty of transport into and within the city itself. Attempts to deal with these issues by the City Council have met with varying degrees of success.
Central Government decided it would help the growth along by introducing the concept of an elected Mayor for Cambridgeshire and Peterborough, whose administration will sit above the current tiers of City, District and County Councils. In return for accepting, the region was promised £100m over 5 years to spend on infratructure and housing, and a further £70m for Cambridge to spend on affordable housing. The office of Mayor comes with powers that could be wielded to get major projects going.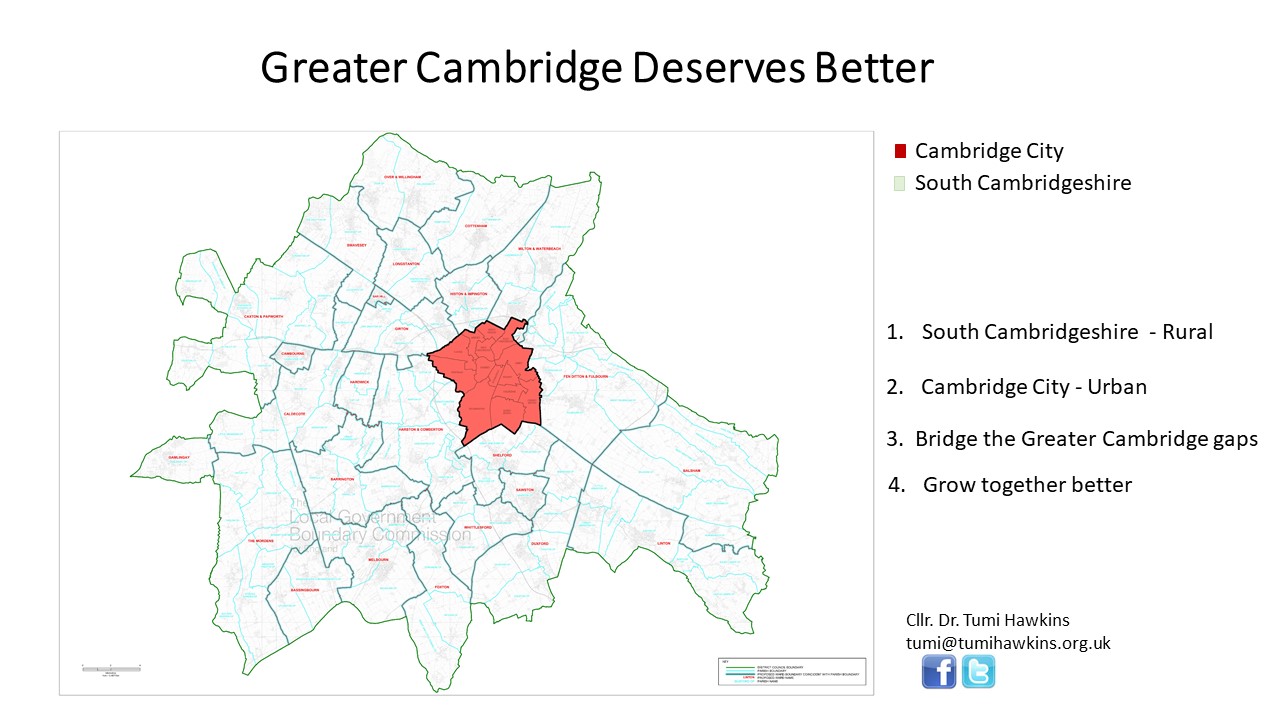 The first elected Mayor, James Palmer (Conservative) was duly elected in May 2017 and he has since settled somewhat into his new role. More importantly, he has now waded into the ongoing discussions about the Local Development plans of Cambridge City and South Cambridgeshire District Council, and the plans by the Greater Cambridge Partnership (GCP) formerly known as the City Deal, for the transport links along the A428 corridor that is to serve the proposed 6000+ dwellings being planned.
It is well known that the GCP transport plans for that corridor are unpopular, particularly as it involves a segregated busway that is set to plough its way through a green corridor between the A1303 and Coton, and opposition to it has been fierce. The Mayor has also been known to say that the scheme is a problem, is short termist, being rushed throught for the benefit of the draft local plans for South Cambridgeshire – a very expensive, very short term solution.
So, with all that said, a group of concerned residents decided it was time to put forward their views on these issues, in effect calling out for a "new vision", a "better vision" for the City, and invited the Mayor to explain his vision for the City at a specially convened event.
The event titled "Cambridge deserves better: a new vision for our region" took place on Tuesday 5th September 2017 at the Rugby Club. It featured Mayor Palmer as the main speaker, with short talks from Stephen Coates of Save the West Fields, Wendy Blythe, Federation of Cambridge Residents Association (FeCRA), Rod Cantril Councillor Cambridge City Council, Coin Harris of Cambridge Connect, Edward Leigh of Smarter Cambridge Transport, and your truly of South Cambridgeshire District Council.
The event sold out, and the hall was packed, with standing room only! The Mayor is a good crowd puller for sure. Fortunately, it was recorded by Anthony Carpen and you can watch the Mayor's speech here and the speeches by the other speakers are here.
As it happens, I had to speak without the slide that I had prepared for the event, but made the point as best I could. In a line up that seemed Cambridge Centric, my point was essentially that Greater Cambridge, comprising the urban City and the rural South Cambridgeshire can grow better together, as the growth of one affects the other. If the two councils are honest, South Cambridgeshire is taking the growth of the City, no matter how much both try to say it is not the case.
The Q&A session threw up some interesting questions from the audience, with the Mayor and members of the panel answering as you can also watch here.
It is a testament to the interest in the issues that the room remained full right to the very end!
My prepared statement which I had to give without my slide was:
South cambs is a rural area – and the 6th best place to live in the UK. There is a reason for that. The district is made up of villages, small and large, in lovely green settings. Cambourne with 4600 houses is the largest of those villages – with the upcoming Northstowe when built will have 10,000.
People live in South Cambs because they want to have a quiet life, space to grow and to enjoy the beautiful rural green surroundings. They don't want to be in a built up area and are prone to wanting to protect that rural feel.
There is still however the need to get to Cambridge City and surrounding business parks, offices etc., to work and for business, and for students to get to school and for families to go shopping or for leisure and sports activities.
Cambridge City, is the urban centre which as you see, is completely surrounded by South Cambs. The city and university form the driving force of the growth in the Greater Cambridge area. It is fair to say, and I do often say that Cambridge is a victim of its own success, and seemingly cannot cope with all of it growth without spilling into South Cambridgeshire. There are significant numbers of business parks in South Cambridgeshire where companies that have been established based on work done in the University, have located.
So, why am I telling you all this?.
I believe there are gaps in our understanding of each other's needs and requirements, or some will may say, appreciation of the character and needs of the rural area by the city dwellers, especially in terms of transport and other infrastructure.
I have a walk of 15-20 minutes just to get to a bus stop, to catch a bus that runs once every 20 minutes, and spend 25 minutes to get to Drummer street where I then have to change buses to get anywhere else!! And that is on a good day. A large part of the district just got superfast broadband in the last 2-3 years, and some still don't. Something the city takes for granted.
Measures being taken by the City administration seem to unduly penalise those who don't live in the city, and so giving the City a reputation of being unfriendly to rural folk.
Rural folk on the other hand think Cambridge is trying to have its cake and eat it. Enjoying success and growth without wanting to share with us rural folk. Even the City Deal was for a time very city focused, and measures that have been introduced for South Cambs still seem to be focussed on what is good for the City, not what is good for the folk of South Cambs, and the ongoing A428 transport corridor fiasco is a prime example.
My plea is this, rural folk are not NIMBYs, but they do not appreciate urban developments being forced on them with inadequate infrastructure. Cambridge cannot take all its own growth, it needs South Cambs to take some of it.
Both need each other, the growth of one affects the other. When we understand that and work together, we can grow together better.
Please feel free to add your comments and share this with your friends on social media.