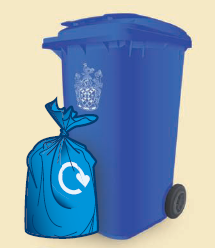 A new textile recycling trial has begun in South Cambridgeshire in a bid to stop textiles and shoes ending up in landfill.
Around 5,000 homes were given blue recycling bags in the latter part of January so they can put out spare clothing, shoes and household linen for collection alongside their blue bin.  The first collection took place on Wednesday 30 January and will continue until further notice.
Households in the following villages will be covered by the trial:
Bar Hill, Childerley, Chittering, Dry Drayton, Knapwell, Landbeach, Longstanton, Swavesey and Waterbeach.
The textile recycling scheme explained
The textiles and shoes collected will be tipped at Amey Cespa, separated from paper and sent to a textile processing facility. Textiles and shoes will then be sorted into reuse and recycling grades. Reusable items are sold for reuse in both the UK and abroad and non-reusable items such as worn clothing and old towels are sorted with some items being used for cleaning rags and industrial wipers. Other non-reusable items are sorted into type and colour, recycled and made into new fabrics.
Coats and jackets, pairs of shoes, accessories, trousers and jeans, sweatshirts, jumpers and t-shirts, shirts and blouses, dresses and skirts, baby and children's clothing, towels, blankets and rugs and bedding and curtains are all welcome and can be placed in the blue textile recycling bags.
Oily items, carpets, duvets, cushions, pillows, quilts and sleeping bags cannot be recycled in this way.
Prior to the start of the scheme, households in the trial villages received this leaflet and two blue recycling bags. The leaflet with indicative pictures and instructions gives more details on what is acceptable for recycling and what is not.
The trial is being funded by WRAP (Waste Resources Action Programme).
South Cambridgeshire District Council welcomes any feedback from households in the trial areas. If the trial proves successful then SCDC will look to roll it out to all homes in the district.
Bag 2 School – the alternative scheme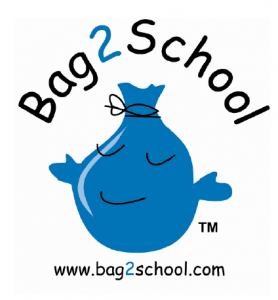 Bag2School is a free fundraising scheme established in 2001. It works in partnership with Schools, Business, Community Groups, Local Councils and Charities to help these organisations raise from the  donations of clothing that are collected. Bag2School pays £500 for every ton of clothing it collects.
Bag2School operate throughout the UK; collecting and selling unwanted textiles to importers and wholesalers in many countries of Eastern and Western Europe, Africa and Asia.
The Caldecote Primary School PTA organises a bag2school collection every term or so in a bid to raise funds that would benefit the Caldecote pupils. This has proved to be quite successful when it was run last year and Lara Macdonald, the Chairman of Caldecote PTA expects to run some more in 2013 to boost the coffers of the school.
Parents have been very supportive, and as they get used to it, some are actually storing unwanted clothing in anticipation of donating to the Bag2School collection.
Bag2School is extremely proud to have paid over 15 Million Pounds into funds so far!
I will encourage residents to bear this in mind when they are turning out their wardrobes. If you have unwanted clothes and you want to donate to Bag2School but don't have the space to store them, either contact the PTA or email me or contact me via this site and I can arrange to have the clothes collected.
.