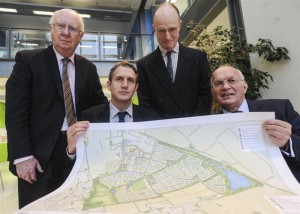 "Multi-million pound deal struck to provide community facilities at Northstowe"
This is the spin that South Cambridgeshire District Council put on the recent agreement to let developers off with a bonus of £30 million!
According to the press release, a report presented to the Northstowe Joint Development Control Committee today (Wednesday 29 January) outlines the terms of the agreement which will get the new town off the ground.
The legal agreement includes:
– £10 million for a new primary school
– £8 million contribution toward a new secondary school
– Almost £6 million toward transport, including new cycle routes, footpaths and a contribution for the Cambridgeshire Guided Busway which is already in place
– £1.5 million for a community centre
– £1.5 million for sports pitches
– £1.1 million for a sports pavilion
– Over £1 million for drainage, which will include improvements for nearby Longstanton
– Over £500,000 for parks and open spaces
The first phase of new homes will also include a local centre with shops and employment opportunities as well as a household recycling centre.
The legal agreement has been finalised by lawyers and will soon be signed by all parties before being sealed. Once completed the outline planning permission already approved by councillors for phase one will be issued. Subject to these detailed planning applications being agreed, developers have said to the councils that work could begin on site later this year.
This settlement is £35 million less than the figures that had previously been discussed. The result is that there will be fewer facilities such as shops, schools and affordable homes. South Cambridgeshire District Council usually requires that every 2 in 5 houses built on a new development is affordable. It enforces this criteria very strictly for homeowners and small developers, but the Council does not seem to have the will to stand up to big developers and has caved in!! Shame on them is all I can say.  At a time when there is even more need for homes that are affordable for the average wage earner, SCDC has failed to live up to its rhetoric.
Cllr Tim Wotherspoon, South Cambridgeshire District Council's Tory cabinet member for Northstowe, said: "Delivering a new town of the highest quality has always been our priority and this agreement will secure the money needed to provide the facilities that are vital to its success. We know there is huge demand for new homes, especially at a price people can afford, and I am really pleased after a long period of negotiation that we have been able to secure the best deal possible. We have a thriving economy in South Cambridgeshire with around 1,000 new jobs being created each year, but to continue our success story and quality of life for local people more housing is needed."
Likewise, Cllr Ian Bates, Cambridgeshire County Council's Conservative cabinet member for growth and infrastructure, said: "Securing a contribution toward a new secondary school as part of phase one of the new town is excellent news for the area. It is rare to be able to do this at this stage of a town and will help make sure it gets off to the best possible start. The highly successful Busway being in place before the first homes begin to be built, along with the recent planning permission for the new Cambridge Science Park Station, will also ensure new residents will have some of the highest quality transport links in the country on their doorstep. But future phases of the town will also need a major upgrade of the A14 which we will continue to press the government on delivering as early as possible."
So what does the developer have to say about the deal? Alan Joyner, Executive Director at Gallagher, said: "We are looking forward to starting construction on site later this year. This is the culmination of many years of hard work by Gallagher and its partners and we will be helping to provide the new community with a wide range of services and facilities in a great location for inward investment in homes and jobs."
What facilities exactly ??
According to Local Reports, this is what Cllr Alex Riley, who represents Longstanton, had to say "Phase one will be a disaster for the B1050, and it's a disaster that will only be alleviated when the road is built straight from Bar Hill to Northstowe, and that is not due until phase two, which is probably unable to start until the A14 is upgraded. We are potentially going to get a 1,500-home dormitory settlement with no infrastructure and no roads and that's not something any local person looks forward to."
I share his concerns, and more specifically because I can just see the same deals being done further down the line if Bourn Airfield Development gets the go-ahead. A precedent has been set with this Northstowe deal, and will be seized upon by other developers who want to wriggle out of their obiligations to the new communities that they are queuing up to build.
Related Stories
Striking £30m deal clears way for construction of Northstowe
Multi-million pound deal struck to provide community facilities at Northstowe