County Consultation Rural Bus Service Subsidies Removal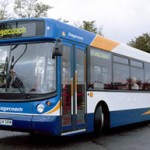 Cambridgeshire County Council decided last municipal year, to remove rural bus service subsidies from all rural routes in the county, a decision that was bound to disturb the lives of those who depend on bus services to get out and about. The decision was taken without any consultation whatsoever with residents, and without due regard to the reality of  the situation as people experience it. The removal was to be phased in, and the first tranch of cuts has already taken effect, and affect some routes in South Cambridgeshire.
Reasons for Rural Bus Service Subsidies Removal
Considering that a large part of Cambridgeshire County is rural, one cannot but question the reason for the Rural Bus Service Subsidies Removal. As most of us who live in rural areas know, getting out and about requires that you either have your own transport, or you use the public transport system. If you do not drive or cannot afford to keep a car, then you are totally reliant on the bus service in your area.
So why the decision to curt Rural Bus Service Subsidies? At the last South Cambridgeshire District Council Scrutiny Committee meeting that took place on Thursday 3rd November 2011, Councillor Steve Criswell was questioned about this and he said:
"we did not want to spend £3million a year subsidising buses running empty throughout the County, therefore we decided to remove subsidies".
That was a fascinating insight into the level of thought that went into the original decision to cut rural bus service subsidies.  Councillor Criswell did not provide any data or information to show that all the buses were running empty, nor did he even try to provide any information that would have shown that the decision was taken following any review or discussion with those who run the services or those who use it. You could hear the gasp that went through the room at that statement.
The "we", in his statement of course meaning the Conservative run County Council cabinet, who it would seem didn't even think it was important enough to consult with those to whom the service is provided, before making such a life-changing decision on their behalf. The "we" who do not use public transport, and who would not be affected by the cuts. The "we" who hold power to make people's lives a misery or a joy, seemingly abuse the very power they were given by the electorate.
Needless to say the removal of some Rural Bus Service Subsidies is already causing misery to many people, and this is what has prompted the cuts being suspended for now.
Consultation on Rural Bus Service Subsidies Removal
Following the removal of the Rural Bus Service Subsidies, some affected residents decided to take legal action against the County, and this resulted in a Judicial Review. The review found against the County, that the removal of Rural Bus Service Subsidies without consultation wasd illegal, and the County had to back down, suspend any further cuts and carry out this consultation. It is interesting to see how the County put the consultation to the public.
In his letter announcing the consultation, Councillor Mac McGuire wrote:
"The County Council's Cabinet has agreed that a review of last year's budget decision to cut the £2.7 million that is currently spent on subsidising bus journeys in Cambridgeshire over the next four years should take place. This review is being carried out as part of this year's budget planning process, ensuring that we consult widely, seek views on not only the principle of making the cuts but also on the impact of specific route changes. We are also looking back at the routes that have already been cut, gathering feedback on how this has impacted communities in these areas."
 That, I think you will agree, is a very good spin on what was a bad outcome for the County. No mention the fact that it was a judicial review decision that was forcing them to rethink the removal of rural bus service subsidies. Nice spin on an illegal decision!
Consulting widely and seeking views on the principle and impact of the route changes and routes that have already been affected can be taken as seeking the views of everyone in the County. However, in an apparent contradiction of that ethos, Councillor Criswell said recently that, 'The bus consultation is not for people who don't ride buses'. So two County Council cabinet members cannot agree on the principle of the consultation!
At the Scrutiny meeting, I asked Councillor Criswell if the County would be reinstating the rural bus services subsidies that had already been removed, considering that the removal has been judged by the Courts to be illegal. His response showed the seeming disdain to the whole subsidy removal episode. He effective hid behind lawyers saying "we have been advised by our lawyers that we cannot make any changes until after the judicial review has been completed". That was a long winded way of saying no.
Where is the difficulty here folks? You took something away illegally, now just put it back – simples!! What's lawyers got to do with it?! Everything apparently. The lawyers choose the questions that go into the consultation, they tell the Cabinet what it can or cannot do, should or should not do etc. Actually, it does make you wonder who is in charge at County? I'll leave you to answer that one.
We would all agree that tax payers money should be spent efficiently, but we also expect that those major decisions will be taken on an informed basis.
Responses to Consultation on Rural Bus Service Subsidies Removal
Now that the County has been forced to stop any further cuts to Rural Bus Service Subsidies, its now taking a step back and asking for residents views, hence the Subsidised Bus Service Consultation. Some would say its a bit like putting the cart before the horse! But at least the step is now being taken to "consult widely".
Councillor McGuire has stated in his letter that:
"Your views are an important part of this process to help us decide on how we implement the financial savings and where possible find local solutions"
So, as he is seeking our views, we really ought to give him our views. All of us should give him our views, and lets not be shy about it.
The deadline for the consultation is on Friday 9th December 2011 at 4.00pm.
You can participate in the consultation by:
1. completing the online bus review questionnaire, which will only take about 5 minutes
2. requesting for a paper copy of the questionnaire from bus.tenders@cambridgeshire.gov.uk 
3. sending in the paper copy by post to: Cambridgeshire County Council, CC1301, Castle Court, Shire Hall, Cambridge, CB3 0AP
I am sure that the County would love to hear from you. Let us give them enough responses so that the County cabinet can make an "informed judgement" on whether or not to carry on with the removal of Rural Bus Service Subsidies.