Finally, the "consultation" promised by Cambridgeshire County Council (CCC) on the future of the Children's Centres is now live. The proposed changes will affect the Centre in Caldecote, co-located with the Caldecote Primary School, as part of the wider changes to be made in South Cambridgeshire, which you will find summarised here.
According to the County Council, "we are consulting with families across Cambridgeshire on proposals for the Children's Centres, and how we plan on offering services at a more local level, and to a broader age range.
We have launched this consultation today (18 July 2017), and it will run until Friday 22nd September.
We want all families in Cambridgeshire to thrive, and believe we can approach our Children's Centre provision in a more flexible, efficient and localised manner.
We are proposing redesigning our services at a time when, along with other public sector bodies across the country, Cambridgeshire County Council is looking to make the most effective use of our available resources.
We want to ensure we have the right services, support and opportunities available for families to call upon should they need us.
We are proposing to deliver services in a variety of ways. The diagram below shows what we are considering, and how this will allow us to work more flexibly alongside those families who need us most.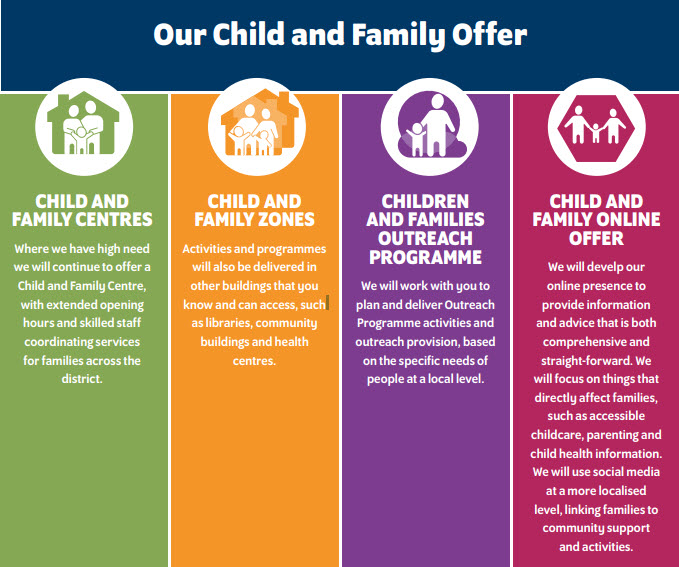 You can view the full consultation and take part in the survey here www.cambridgeshire.gov.uk/childrenscentreconsultation
We will be updating this page throughout the duration of the consultation, and will keep a rolling FAQ document which will be updated weekly.
I encourage you to take part in the consultation, and to share it with family and friends. It is important that we gather the thoughts and feedback of staff, residents and families of Cambridgeshire, so we can make informed decisions about the future of our services.
If you have any questions or comments, please contact: ask.childrenscentres@cambridgeshire.gov.uk
I look forward to hearing from you.
With Warmest Wishes
Theresa Leavy
Interim Service Director
Cambridgeshire County Council
Children, Families & Adults (CFA), Shire Hall, Cambridge, CB3 0AP